The EnhanceMicroAlgae team will be hosting a Webinar on Thursday 16th July, in which the EhanceMicroAlgae team will present  the virtual tools developed within the project, as well as the other deliverables of importance for the microalgae community.
The Webinar will also feature some question and answer sessions, allowing you to find out more about particular areas of the project, with the researchers on hand to answer these questions. 
A schedule can be found below, or by clicking here (Please note that this program might be subject to alterations, the organiser will give notice of any amendments as early as possible)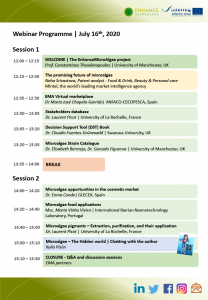 These Webinar sessions will be taking place via a password protected Zoom session, so in order to attend you must be registered, and you can register via Eventbrite
An email will be sent in the days leading up to the Webinar which will contain a link to the Zoom meeting, as well as the password required for this session, and also a schedule for the talks.