«Latest developments in microalgae science, start-up creation, industrialization and experience sharing to overcome gaps and barriers to innovation markets»
On 20 October 2022, the EnhanceMicroalgae partners at the University of La Rochelle (Dr Laurent Picot, UMR CNRS 7266 LIENSs, WP4 leader) organised a workshop dedicated to highlighting the latest developments in microalgae science and start-up creation in the European Atlantic Area. Industrialisation and experience sharing to overcome gaps and barriers to innovation and markets were the focus of this first workshop of the EnhanceMicroalgae project extension period, which brought together 34 invited European and non-European experts, sharing a wide range of knowledge and experience in microalgae research, industrial transfer, industrial development and marketing.
After a session dedicated to the presentation of the EnhanceMicroalgae project and results of the first project period (11/2017 -> 12/2021), presentations by microalgae producers from the European Atlantic Area highlighted successful developments in microalgae industrialisation, biomass production, biorefinery and marketing. These included innovative developments in photobioreactors design and conception, new opportunities for cosmetic products developments and strategies to overcome commercial barriers for the production of pigments, lipids, microalgae biomass and new bioactive extracts. An update on the European algae ecosystem from a production, research and business perspective was also presented by Dr Jean-Paul Cadoret, President of the European Algal Biomass Association (EABA). The next session was dedicated to the presentation of the latest developments in microalgae science and their transfer to industry, including the use of microalgae pigments for the dermocosmetic management of acne, the choice and eco-design of extraction and purification processes, promising applications of microalgae exopolysaccharides for the stimulation of collagen and hyaluronic acid by human dermal fibroblasts, innovative disruptive technologies for the processing of microalgae biomass, including microwave assisted extraction technologies, and strategic analys is of the development of the microalgae sectors in countries outside the European Atlantic Area. The last session was dedicated to sharing experiences on promoting interest in microalgae among European students and the general public, training of new generations of European microalgae actors and a final networking session.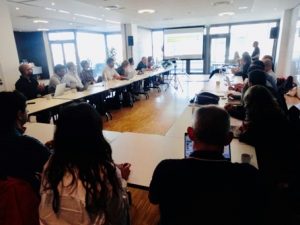 After a successful day of workshop, the EnhanceMicroAlgae partners met on 21 October to share their latest updates and project developments. The meeting was a perfect platform for all partners to discuss and evaluate the course of action established to achieve the project objectives, discuss the organisation and activities of the extension period of the project and thus increase the competitiveness of the microalgae sector in the Atlantic area.